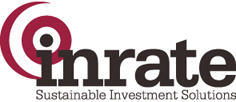 Inrate Sustainability Breakfast: Active shareholders do vote – but in favour of what?
The Inrate Sustainability Breakfast on April16th in Zurich and on April 25th in Geneva received again high approval.
On the Inrate website, you will now find a short summary of the event as well as these documents:
·        Presentation Tobias Jung, Head of Research at Inrate: Is Corporate Governance a driver for Sustainability?
·        Presentation Christoph Ryter, President Swiss Association of Pension Funds (ASIP): The role of Swiss pension funds as active shareholders (in German and French)
·        Presentation Prof. Dr. Markus Schmid, Professor of corporate finance at the University of St. Gallen: Does Corporate Governance affect company value?  (in German)
·        Presentation Dr. Michael Madjar, Managing Director of the Corporate Governance Agency Switzerland (CGAS): Does Corporate Governance affect company value? (in English)
·        Product Information "Inrate Engagement Services"
If you need more insights on our range of services or are interested in the Inrate sustainability research in general, please contact Stefano Gilardi, Head of Market Relations: Tel. +41 58 344 00 06, Mail: [email protected]
We wish you a pleasant reading and are looking forward to our next event with you.
Best regards,
Natalie Ernst
Corporate Communications
T +41 58 344 00 23
[email protected] 
Inrate Ltd

Inrate Ltd is a leading independent sustainability rating agency active in Europa. It is based in Switzerland and has more than 20 years of experience in linking its know-how on sustainability with the financial markets. Inrate provides tailor-made solutions for investors who wish to consider ESG issues in their investments – either on the grounds of socially responsible investment or with the aim of minimizing extra-financial risks in traditional investment. More information: www.inrate.com.