---
ETHICAL MARKETS MEDIA is an independent media company promoting the emergence of a sustainable, green, more ethical, and just economy worldwide. We research and report on all the new organizations: civic, non-profit and for-profit, as well as individuals working for the transition to the new economies of the dawning information-rich solar age.
---
Politics of the Solar Age:
Alternatives to Economics (1981)
---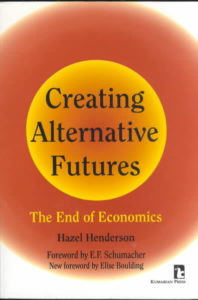 ---
Creating Alternative Futures:
The End of Economics (1996)
---
---
Mapping the global transition
to the solar age (2014)
---
---
Green Transition Scoreboard:
Science-Based Investing (2019)
---
Hazel founded Ethical Markets in 2004 and still takes no salary. We take no advertising and are funded by TV royalties from our global TV series and Hazel's books, articles and lectures.
Any donation welcome.