Andrew Kaen and Planet Heart have collaborated with We, The World to produce the popular World Peace Earth Day Celebration for 7 years now. If you or your friends are in NYC on April 22nd, we hope you will join us at this beautiful Earth Day Celebration!
Andrew Kaen – Founder of Planet Heart, Executive Producer
Rick Ulfik – Founder of We, The World and the WE Campaign – www.WE.net
---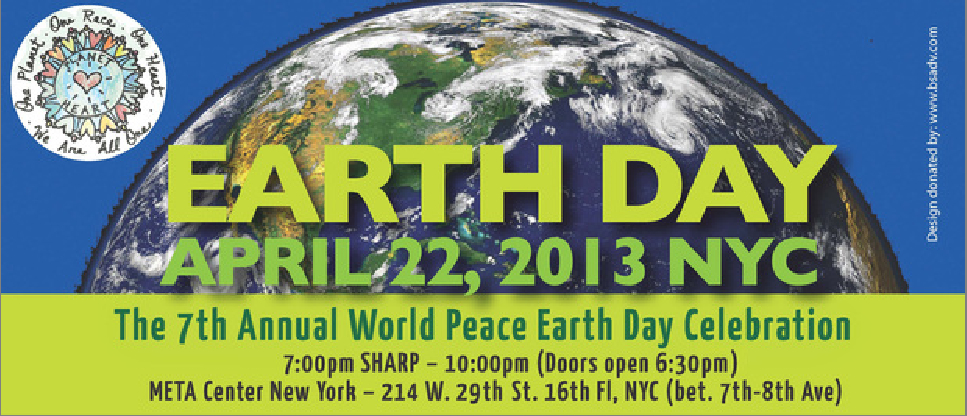 OPEN YOUR HEART!
  
PLANET HEART,
in association with 
We, The World

presents 

The 7th Annual World Peace Earth Day Celebration:
Celebrating Our Planet, Healing Our Heart
 
Monday April 22, 2013  7PM-10PM
 
LOCATION: META Center New York – 214 W. 29th St. 16th Fl, NYC (bet. 7th – 8th Ave)
Enjoy our special program of wonderful presenters, and be in UNITY with Mother Earth and each other on this joyful occasion to honor, show gratitude & give love to our beloved planet. 
MC & Host, Alan Steinfeld of New Realities –  www.newrealities.com
Opening Ceremony with NY Shamanic Circle 
Itzhak Beery – Co-Founder of the NY Shamanic Circle (NYSC)
Gong Bath with Gong Master Don Comreaux
Sound Healing with Sylvia Moss, OM, BHS – Crystal Bowl Master Alchemyst and 
Maryanne Savino – Sonic Alchemyst, Chantress, Temple Dancer
Jodi Serota – Channeled Vibrational Sound Activation – Channel, Vibrational Healer, Metaphysical Educator, Owner of META Center 
Talat Jonathan Phillips – Author of The Electric Jesus: The Healing Journey of a Contemporary Gnostic,Co-Founder of Evolver.net, Reality Sandwich
Anthony Whitehurst – Energy Healer, Community Organizer 
Jewel of the Universe – Sacred Dance Prayer in Motion to Honor Mother Earth
With Musical Performances:
Peaceniks Band
Christine Marie – Recording Artist 
Lalie – Singer/Songwriter, Emmy-Award Winning Producer
Dani Elison – Singer/Songwriter
~~~~~~~~~~~~~~~~~~~~~~~~~~~~~~~~~~~~~~~
Ticket Info:
Co-Sponsors: We, The World, Evolver, New Realities, NY Shamanic Circle, ShamanPortal.org, Conscious Bee, Souldish, Good News Broadcast, WBAI Pacifica Radio, Healing with Source, StarHorizon Media, Activist Nation, Sanctuary for Harmonic Living, Talking Alternative Broadcasting, NPJ Printing, Universal Peace Day, Tricia McCannon Speaks, The Phoenix Fire Mystery School, Unitribe Productions and more.
---
We, The World would like to thank our many Supporting Organization Members including Parents Forum (www.parentsforum.org)a non-profit, community-based organization that provides workshops focusing on emotional awareness and help for individuals and agencies to develop strong support networks and resources for parents and other caregivers.