Once again, this June, you have a unique opportunity to present your ideas for making the world a better place at the United Nations. The ninth annual Design Science/Global Solutions Lab is being held this summer, June 16-24, 2013, at the United Nations in New York and Chestnut Hill Collegein Philadelphia, PA. Here is how it works–participants from around the world are briefed by UN experts, develop strategies for solving one of the world's most critical problems, and present their work at the UN.  Hopefully, this year you will be able to attend. 
This year the Lab will focus on the urban problems (and other topics determined by participants). Participants work collaboratively and intensely for eight days. They present their work to UN, corporate and foundation leaders on the last day of the Lab, as well as have it published in a book. To see last year's acclaimed publication, check out http://www.designsciencelab.com/book. Further details and registration information are at www.designsciencelab.com. 
I would greatly appreciate it if you would forward this information to any of your friends or colleagues who you think would be interested in participating in this event.
Best regards,
Medard Gabel
2013: DESIGNING THE WORLD TO WORK FOR EVERYONE
Join us for this 9th Annual Design Science/Global Solutions Lab, June 16–24 at the United Nations and Chestnut Hill College in Philadelphia.
Where you develop solutions to critical global and local problems.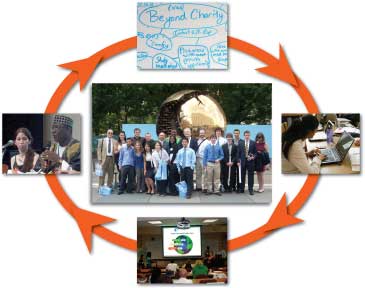 Who Attends:
College and high school students, as well as teachers and young professionals from around the world, who want to contribute effectively to the world.
(Previous Lab participants have come from France, Spain, Turkey, Ukraine, Mexico, Venezuela, Haiti, Canada, Nigeria, Tanzania, Zimbabwe, Ghana, China, Hong Kong, New Zealand, Australia, Palestine, Lithuania, Sudan, India, Pakistan, Nepal and all over the US.)
SUMMARY


Design Science:
Global Solutions Lab
DESIGNING THE WORLD TO WORK FOR EVERYONE

When: June 16–24, 2013

Where: The United Nations, New York, and Chestnut Hill College in Philadelphia, PA.

What happens:
You are briefed by expert UN staff (previous speakers were from UN Development Program, UN Environment Program, UNICEF, UNESCO, WHO,  UN Department of Economic and Social Affairs, UN Population Fund, UN Food and Agriculture Organization, Department of Economic and Social Affairs, UN High Commission for Human Rights, and others)
You develop designs and solutions to critical problems facing the world
You present these at the UN
A book is published of your work.
Cost: Lab tuition $950. Discount for early registration. Partial scholarships available in special circumstances.
Sponsors: BigPictureSmallWorld, Global Education Motivators and Pacem in Terris
Website: www.designsciencelab.com
Contact: 610.566.0156 [email protected]
What you learn, do, get
Be briefed by United Nations experts on global problems and opportunities.
Learn about critical global problems that impact the lives of everyone in the world, as well as the opportunities associated with these problems, and what we can do to change the current situation.
Learn and use Design Science—a problem-solving and strategic design and planning methodology, developed by Buckminster Fuller and other scientists and designers, that will be of use to you for the rest of your life. You will work collaboratively to develop a solution to meet one or more of the UN's Millennium Development Goals*.
Present your work at the UN to a team of UN and other experts. Your work will be published in a book after the Lab's conclusion.
You will receive a CD ROM packed with over $1,000 worth of the latest books and reports from the UN and dozens of other international agencies on the state of the world, communications, energy, food, water, population, education, health, climate, the global economy and other topics.
Meet others with similar interests, and work very hard and have fun doing it.
Cost, registration, further details

Cost of attending the 2013 Design Science/Global Solutions Lab is $950. There is an early registration discount. Partial scholarships are available in special circumstances. Further details and registration information are at www.designsciencelab.com. Here you will also be able to download the book that documents the work from previous Labs as well as see a short movie that describes the work of the Lab.

The 2012 Global Solutions Lab book.
Download it here.
 

Pacem in Terris | 1304 Rodney Street | Wilmington, DE 19806

Email Marketing by