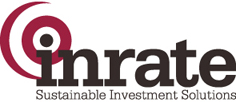 Inrate Sustainability Breakfast: Why impact matters
The Inrate Sustainability Breakfasts on December 3rd in Geneva and on December 5th in Zurich received again high approval.
On the Inrate website, you will find now these presentations:
·        Sustainable economy – an opportunity for growth: Prof. Dr. Lucas Bretschger, ETH Zurich (in German) & Prof. Salvatore Di Falco, University of Geneva (in English)
·        From impact to rating: Vanessa Ardenti & Tobias Jung, Members of the Inrate Board of Management (in French and German)
·        Impact and portfolio construction – a promising duo: Laurent Nguyen, Pictet Asset Management (in English) & Dr. Ralf Seiz, Finreon (in German)
as well as the video of the Zurich Panel discussion: Is the sustainable investment world heading off to new horizons?
Link to the breakfast in Geneva / Link to the breakfast in Zurich.
If you need more insights on our range of services or are interested in the Inrate sustainability research in general, please contact Stefano Gilardi, Head of Market Relations: Tel. +41 58 344 00 06, Mail: [email protected].
For a printed copy of the Inrate Sustainability Guide 2013, please contact Natalie Ernst (see address below).
We wish you a pleasant reading and are looking forward to our next event with you.
Best regards,
Natalie Ernst
Corporate Communications
T +41 58 344 00 23
[email protected]