ACEEE BLOG POST
Media Contact: Patrick Kiker
[email protected], (202) 507-4043

Implementation of clean vehicle standards: How's it going?
By Therese Langer, Transportation Program Director
Standards cutting greenhouse gas emissions from cars and light trucks and raising fuel economy are among the biggest environmental achievements of the Obama administration. The standards are projected to save consumers hundreds of billions of dollars in fuel expenditures over the next decade. In the process, they are helping to shape the US and global auto industries by establishing an expectation of continuing technological progress toward high efficiency, low-emitting vehicles.
A new report from the EPA presenting manufacturer performance data from the first two years of the greenhouse gas emissions standards shows how the program is shaping up. Manufacturers by and large met the standards in both 2012 and 2013, with room to spare. Average compliance values in 2013 were 13 grams per mile, or 4 percent, below (better than) what the program called for in 2013, and in fact a bit below the more stringent requirement for model year 2014.
The performance of a sampling of manufacturers (figure 1) helps to explain two important aspects of the program: how the size mix of vehicles sold affects the emissions requirements, and what the role of special credit provisions has been.
Figure 1: Performance of selected manufacturers, 2012 and 2013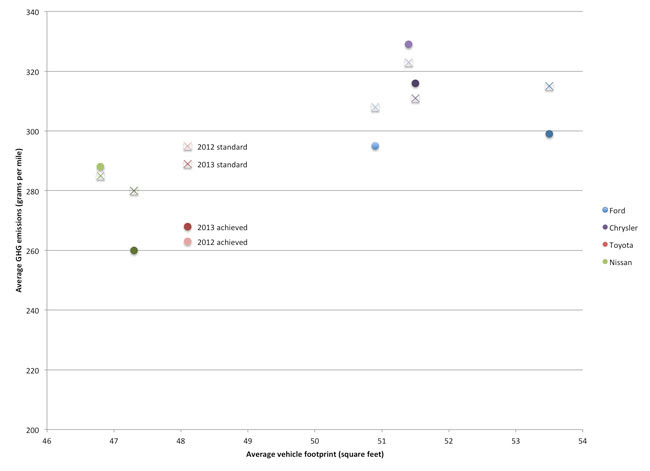 Data from EPA's 2013 Manufacturer GHG Performance Report Footprint Rules
The case of Ford underscores a key feature of the standards that press accounts often obscure: average fuel economy and greenhouse gas emissions levels required under the standards for a given year depend on the size mix of vehicles sold that year. Average emissions of both Ford's cars and its trucks declined from 2012 to 2013, yet their average emissions overall increased, due primarily to a whopping 11 percent shift from cars to trucks in Ford's sales mix. This shift also meant that Ford's average vehicle footprint (the area of pavement defined by the four wheels), and consequently its emissions standard, increased in 2013. Ford easily met its standard in both years…
To continue reading this blog post, visit: http://aceee.org/blog/2015/03/implementation-clean-vehicle 
About ACEEE: The American Council for an Energy-Efficient Economy acts as a catalyst to advance energy efficiency policies, programs, technologies, investments, and behaviors. For information about ACEEE and its programs, publications, and conferences, visit aceee.org.
###
  .