Can sheep restore Patagonia's grasslands?
Patagonia Inc
is buying wool from ranches that aim to restore degraded land in
Argentina
with livestock, a controversial concept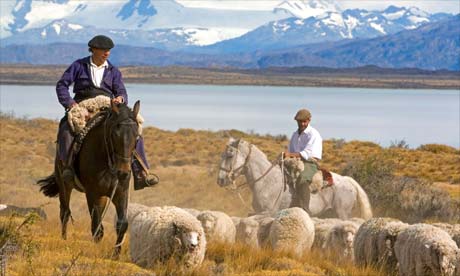 "Sustainability is a joke in comparison to the premise of regeneration." – Joshua Finch, Daily Kos
Patagonia's unique and complex grasslands are among the most damaged in the world, and roughly 20m acres have been abandoned.
As a scientist, Pablo Borelli has spent his entire career working on desertification – both as a research fellow at Argentina's National Institute of Agricultural Technology and as a trainer and consultant evaluating and planning grasslands for sustainability. But despite his recommendations that farmers reduce their livestock, their land had continued to deteriorate and they were left with less to sell.
"We were completely stagnant with the old paradigm," he says. "The farmers wanted new ideas."
In 2007, Borrelli and Ricardo Fenton, co-founders of an Argentine company that manages and develops a network of wool producers, met early practitioners of "holistic management and planned grazing", or HM. They used the process – developed by controversial Zimbabwean and rancher Allan Savory – to heal grassland, eventually doubling the number of animals they grazed.
The next year, in 2008, they started using HM at Estancia Monte Dinero, Fenton's 65,000-acre family estate. Within two years, Borrelli says, they saw more positive changes in the grassland than they had seen in the previous 10. New plants were covering the bare ground, increasing biodiversity, including many more plants considered rare – in some cases, plants that had not been seen there for 30 years.
Thus encouraged, their company Ovis XXI created standards to certify sustainable grazing and branded its wool as sustainably harvested. Then, as Borrelli introduced HM to more ranchers, they looked for a customer.