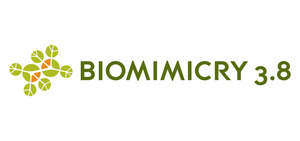 Biomimicry 3.8 Institute Newsletter – July 2013
See What Got Participants Dancing and Cheering at the Education Summit and Global Conference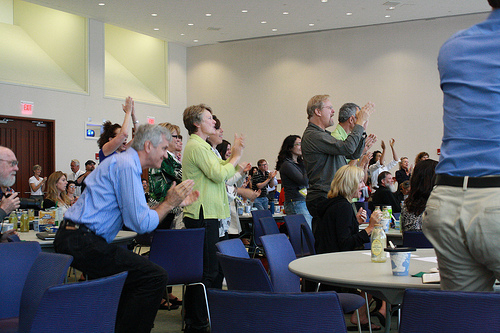 "Totally life-changing and inspiring." "Masterful and well organized." "Mind-blowing." Those are just a few of the comments we heard from participants of our 7th annual Biomimicry Education Summit and inaugural Global Conference.
More than 260 students, educators, and practitioners attended the Summit/Conference at UMass Boston last month, which featured presentations by thought leaders in sustainable innovation including Janine Benyus, Neri Oxman, and John Warner.
After two intense days of inspiration (three days, for educators who arrived a day early for our sold-out Introduction to Biomimicry workshop), you might suspect that participants would be dragging on Sunday morning. Not so! Conference ballroom A briefly transformed into a night club when emcee and Institute Executive Director Bryony Schwan played thisMichael Franti song, and nearly everyone hopped out of their seats to dance.
The presentation that garnered the most sustained and frenzied ovation was the closing address by Dayna Baumeister, Biomimicry 3.8 co-founder and keystone. Dayna gave a raw and moving account of her recent cancer diagnosis and drew insightful parallels between her alternative treatment plan and biomimicry. We will post videos of some of the other keynotes from the Summit/Conference in the coming weeks. Stay tuned!
Special thanks to our signature sponsor, the Ray C. Anderson Foundation, and specifically to John Lanier and Harriet Langford for helping to make the event possible. Thanks also to TreeHugger for their media sponsorship, the College of Advancing and Professional Studies at UMass Boston, and all of our donors for supporting the event.
Design Challenge, Best of Biomimicry Winners Announced at Gala Event

At a special awards event held at the Harvard Club of Boston last month, we recognized the finalists and winners of our 2012-2013 Biomimicry Student Design Challenge.
The Grand Prize recognized the team that had both a solid biomimetic design concept and the best biomimetic business plan around the theme of water access and management, and the People's Choice award went to the team that collected the most "investment dollars" from the audience following informal team pitches that evening. The $10,000 Grand Prize went to Egy-Osmo, a team from the German University of Cairo in Egypt (pictured above), for their entry Dromedarily Sustainable, which presents a novel way to utilize Cairo's existing extensive yet stagnant canal system for irrigation and pest control purposes. The $1,000 People's Choice Award went to a team from Universidad Autónoma de Yucatán, in Mérida, Mexico, for their CHAAC HA' Water System Collector, a simple and highly sustainable design for individual dwellings to collect water.
The awards were presented by Janine Benyus, co-founder of the Biomimicry 3.8 Institute and John Richardson of theBlackstone Ranch Institute, whose generous funding allowed us to add a business development component to our challenge and to fly six student teams to Boston to pitch their designs in person. Other finalists included Wakati (Time Capsule) from Artesis University College in Belgium, Visual Water from Chalmers University of Technology in Sweden, SolDrip Solar Still from the Minneapolis College of Art and Design, and Nature Inspired Removal of Air Entrained in Water from the University of Toronto.
That evening we also presented our first-ever Best of Biomimicry Awards. Winners included Claire Weerepas of St. Alban's College for Excellence in Biomimicry Education within a K-12 or Public Learning Enviornment; Marjan Eggermont for Excellence in Biomimicry Education within a College or University; Thomas Knittel (pictured above) for Excellence in Biomimicry within the Field of Design; and Claire Janisch and Julie Sammons, co-winners for Regional Network Leader of the Year. Congratulations to all of our award winners and our deepest gratitude for the phenomenal work you do to bring biomimicry into the world!
Former Cradle to Cradle Executive Appointed Institute's Interim Director
While Biomimicry 3.8 Institute Executive Director Bryony Schwan is on sabbatical this summer, Beth Rattner will serve as interim executive director through September 2013.
Beth first joined our team in September 2012 as Biomimicry 3.8's director of marketing and strategy. Prior to this post, she was the executive director and vice president of the Cradle to Cradle Products Innovation Institute, a non-profit she founded with William McDonough and Michael Braungart. She also advised U.C. Berkeley's Center for Green Chemistry.
Formerly with Hewlett Packard, Beth helped establish the Emerging Market Solutions group, addressing those who earn less than $2 a day in India and South Africa. The team launched HP's first multi-user, daisy-chained computer and a solar-powered printer, providing microfinance opportunities for women.
Beth is personally committed to helping industry follow the laws and design genius of nature. She is a permaculture practitioner, writer, and student of herbal medicine and homeopathy. We are thrilled that Beth has chosen to share her wealth of talent with our team.
AskNature Growth Includes New Hire and User Experience Agency
This spring we received a generous grant from The DOEN Foundation to accelerate work on AskNature 2.0. With those funds, we recently started working with a user-centered digital experience agency, COPIOUS, to redefine and rebuild AskNature from the ground up. A few members of the COPIOUS team attended the Biomimicry Education Summit and Global Conference to better understand the many facets of biomimicry, and we held a well-attended workshop focused on AskNature users' goals and needs.
Last month we hired Jennifer Schill to support AskNature as the website's content and community manager. Armed with a degree in biology and a breadth of relevant experience, Jennifer comes to us after tenure at US Green Building Council, where she recently helped create a comprehensive online directory of LEED certified projects. We will keep you posted as AskNature continues to evolve.
Experience Biomimicry Under the Big Sky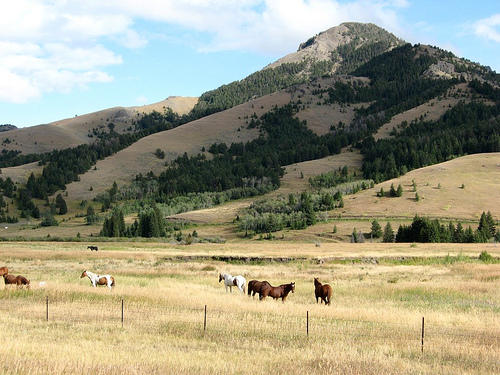 If you've never been to Montana, as soon as your plane descends into Bozeman you'll feel the difference in space, pace, and decibel level. After the two-hour drive to the B Bar Ranch, nestled between the 10,000-foot peaks of the Gallatin Range, all semblance of your normal routine will have faded.
Established for Keystone Society members who have donated $5,000 or more, we have organized a weekend that is both rustic and luxurious, adventurous and relaxing. You will stay in an A-frame log cabin and dine on organic food produced by the ranch and neighboring farms. You'll need hiking shoes for our outing to Yellowstone National Park but be sure to bring your swimsuit, too, so you can soak in the hot tub while watching shooting stars.
With Janine Benyus as your guide and the ranch as your home away from home, you will come home even more inspired by what the natural world can teach us, and how you can help make a world empowered by nature's genius possible.
For more information, please contact Diana Lee at [email protected] or 510-384-8326.
Attend a Biomimicry Expedition in the Okavango Delta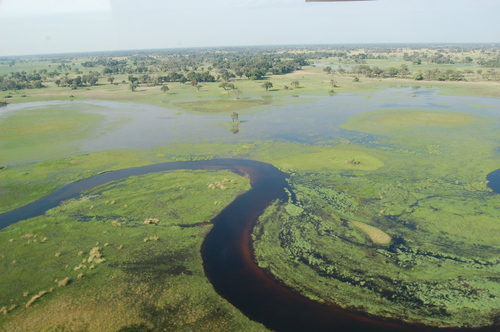 Are you interested in a once-in-a-lifetime opportunity to study biomimicry in Botswana's magnificent Okavango Delta? Biomimicry South Africa, a member of the Global Biomimicry Network, is collaborating with Wildlight Safaris to bring an expedition of aspiring biomimics to one of the world's greatest wetlands October 16-20. Led by certified biomimicry professional Claire Janisch and naturalist Rob Janisch, you'll see the genius of nature up close through the biomimicry lens. The expedition will be accompanied by special guests Dr. John Todd (ecological engineer and wetland biomimicry expert) and Nancy Jack Todd (author of A Safe and Sustainable World: The Promise of Ecological Design). Space is limited, please register by July 15. Visit the BiomimicrySA website or email Claire Janisch for more information.
?Photo credit: Joachim Huber; License: Creative Commons Attribution-Share Alike 2.0 Generic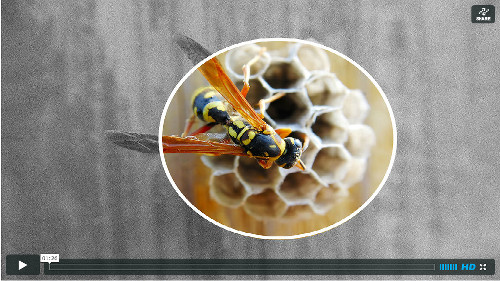 If you check under the eaves of your home or garage, you might notice that paper wasps have been busy building nests. Through wind, rain, and snow, those nests provide a sturdy and waterproof home for wasp colonies. But how are they made and from what materials? Sherry Ritter, one of our favorite biologists at the design table, explains in this month's AskNature Nugget. You will find a fresh Nugget in every issue of our newsletter, and each one will ask, "How does nature…?"

Light-creating bacteria help squid distinguish day from night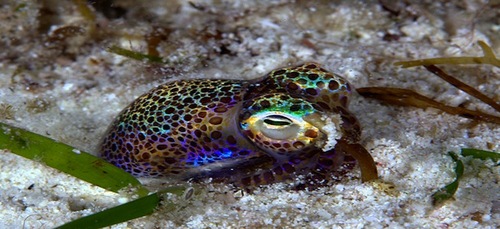 Last week across the United States, fireworks illuminated the night sky in celebration of our Independence Day. Off the coast of Hawaii, Hawaiian bobtail squids were experiencing their own internal illumination, but it was driven by cooperation rather than independence. These squid have a mutual relationship with bacteria living inside them that are bioluminescent, meaning that they create and emit their own light via a chemical process. Researchers have recently discovered that the light emitted by the bacteria is critical to the squid's survival because it enables the squid to distinguish day from night, hence prompting it to either remain safely under the sand or come out to hunt. The bacteria's bioluminescence activates a gene in the squid that produces a protein responsible for the squid's ability to maintain its daily time rhythm.
Understanding this squid-bacteria relationship can inform human challenges, such as health issues related to similar bacterial synergies or relevant challenges specific to your own work. To learn more about this strategy and others, check out AskNature.
Photo credit: Klaus Stiefel; CC-by-nc – Attribution Non-commercial
Biomimicry Research and Design News