"Ethical Markets is proud to be a Media  partner with ASBC and  recommends this interesting report on their annual conference on "Making Capitalism Work For All", Dec 10-11, 2019.  I was honored to participate in the opening panel discussing whether capitalism will survive. Tech gremlins reduced my live video to audio only, but I did prepare a background paper sent ahead, pointing out that I did not think that capitalism would survive, but markets certainly will, since they are part of our human DNA since earliest times!
My paper "Markets Growing Problem Twins: Advertising and Trading" examined the need to end Silicon Valley's social media monopolies' advertising-driven business models, as well as algorithm-driven high -frequency trading and front-running on Wall Street.
The good news is that Green New Deals are popping up worldwide, buttressed by all the research that demonstrates the technological feasibility of phasing out nuclear and fossilized sectors and achieving the 100% shift to renewables by 2050, including the latest from Stanford University, confirming our Green Transition Scoreboard® Annual Reports  since 2009.
(all downloadable at www.ethicalmarkets.com)
~Hazel Henderson, Editor"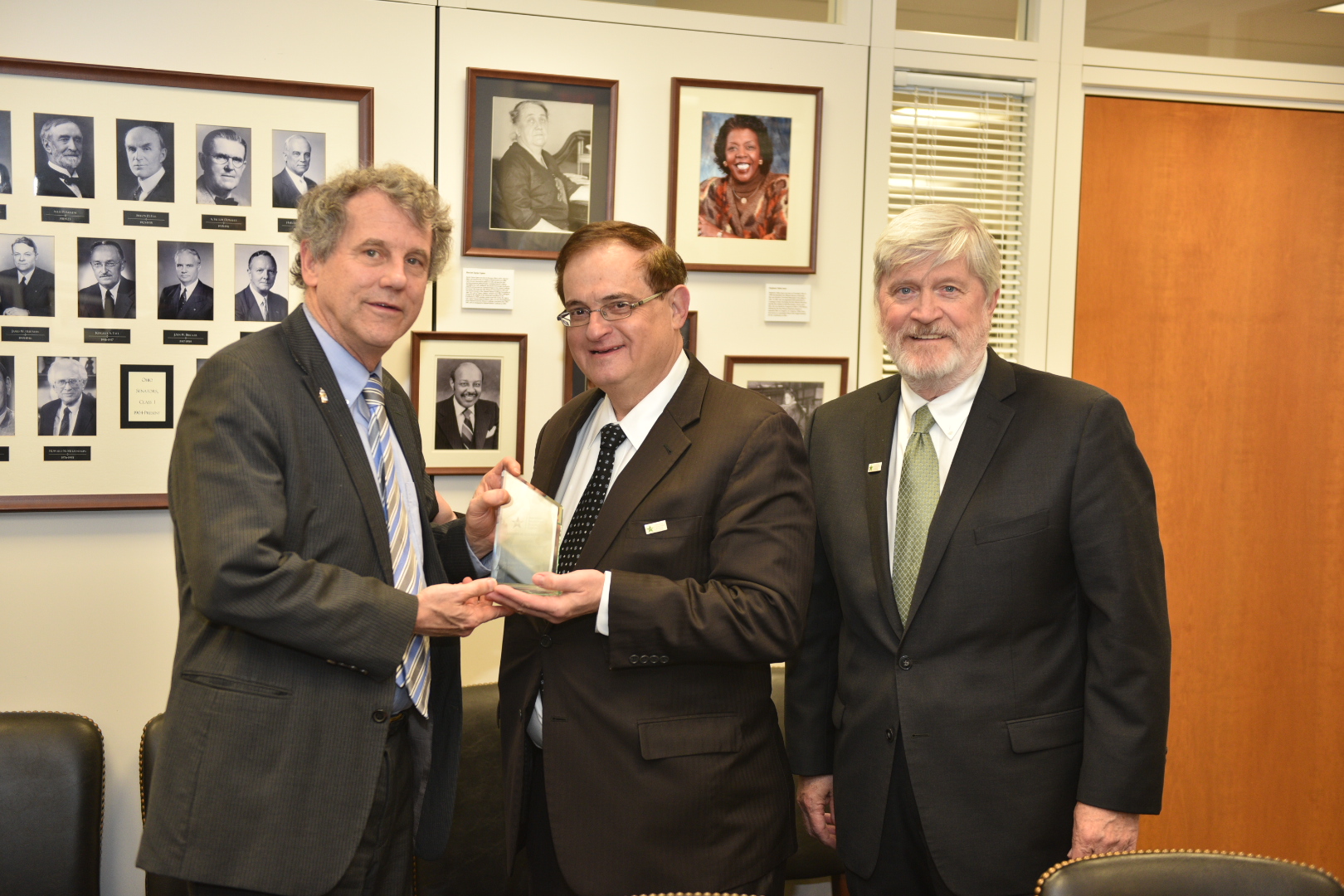 (L – R) U.S. Senator Sherrod Brown;Barry Cik, Naturepedic; Thomas Oppel, ASBC
The Future of Capitalism + Activism Starts Now
*By Nina Bernardin, Conscious Company
I really enjoyed facilitating the panel discussion, "The Future of Capitalism + Activism: Thoughts from Gen Z and Millennial Leaders" at the American Sustainable Business Council's Summit on Tuesday in D.C. It was exciting to hear from thoughtful young change-agents from both sides of the aisle on making capitalism work for all.
Tuesday was spent dissecting the problem while Wednesday was spent lobbying for the support of better business practices. We met with the staffs of senators and congressmen and congresswomen from a broad range of states: Texas South Carolina, California, New Hampshire and Pennsylvania. The more legislators from across the country ASBC can connect with, the more decision-makers will understand the changes our business community is seeking on behalf of our companies, communities and country.
(L – R) Lela Klein, Co-op Dayton; Quillian Robinson, American Conservation Coalition; Tequila Johnson, The Equity Alliance, Nina Bernardin, Conscious Company, moderator.
ASBC Strategizes on Environment with House SEEC
As a cornerstone of ASBC's climate and sustainable packaging efforts, we are building a strong relationship with the 62-member U.S. House Sustainable Energy and Environment Coalition (SEEC).  Those efforts saw good results on December 11 during the Capitol Hill Day portion of our "Making Capitalism Work for All" Summit. ASBC members took the opportunity to strategize over coffee on some key issues with the chair and vice chair of SEEC: Reps. Paul Tonko of New York and Matt Cartwright of Pennsylvania.
ASBC Summit Pushes for Real Systemic Change
"Making Capitalism Work for All," ASBC's annual Summit,
as an inspiring, energizing success for the more than 150 attendees who arrived in the nation's capital for the two-day event on Dec 10 and 11.
A series of plenary sessions and breakouts featured speakers who spanned every perspective from progress to conservative, every age group from Gen Z to Boomer, and every professional category: entrepreneur, established business leader, activist, academic, trade association leader, economist and think-tank scholar.
All came to brainstorm on the first day about how shared efforts can forge a more just and sustainable economy, one that puts people and planet on a par with profit, shifting from a priority focused strictly on shareholders to one concerned with the broader community of stakeholders.
The second day saw more than 60 ASBC members meeting with a dozen members of Congress and more than 40 Congressional staffers on our priority issues including sustainable packaging, a high-road economy, climate, infrastructure and stakeholder capitalism.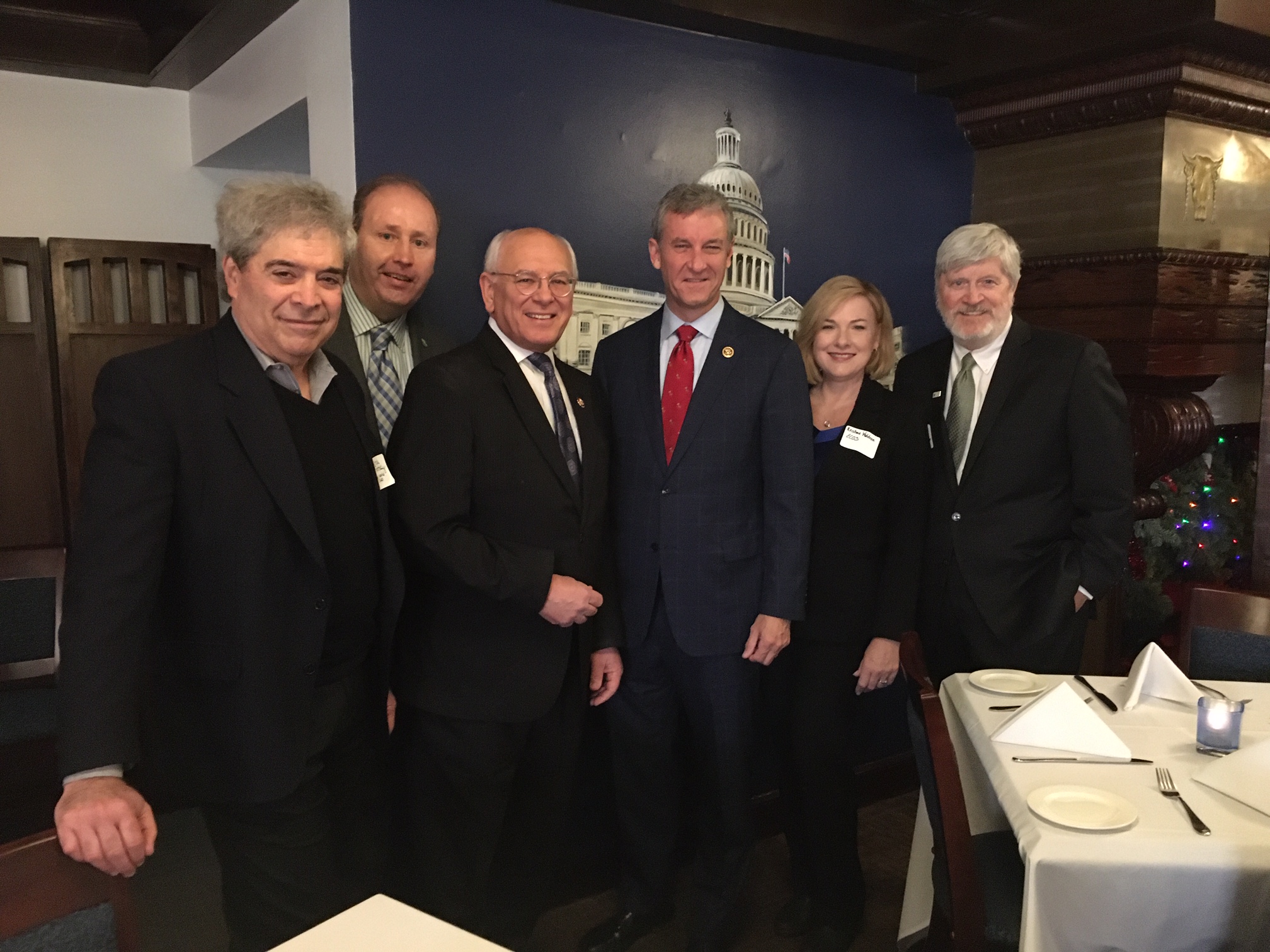 (L – R) Mitch Rofsky, President, Better World Club; John Imes, Executive Director, WEI;
Donate to one of ASBC's Policy Issue Areas
What's NewFive Honored with ASBC Sustainable Leadership Awards
U.S. Senator Sherrod Brown of Ohio and Congresswoman Barbara Lee of California headlined the winners of the American Sustainable Business Council's 2019 Sustainable Leadership Awards at ASBC's "Making Capitalism Work for All" Summit this month. The two members of Congress were honored for their efforts in building a sustainable and high-road economy.
EILEEN FISHER was named a company-wide winner for Leadership in Supporting a High-Road Workplace. ASBC Board Secretary Michael Peck, co-founder of 1worker1vote, was named a Sustainable Leadership awardee for Leadership in Promoting Worker Ownership. Lauren Maunus of Sunrise Movement was recognized for Leadership in Tackling Climate Change.
The Award recognizes foresight and commitment shown by public and private sector leaders in championing public policies that help build a more sustainable economy.