11 Days of Global Unity September 11 to 21
Changemakers Worldwide Promote a Culture of Peace & a Sustainable Future
www.11DaysOfGlobalUnity.org
11 Ways To Change the World – www.we.net/11themes
11 Days Tele-Summit for the Summer of Peace
Final Call For the International Day of Peace
Sept 21 1PM-2PM Eastern Time/USA
Featuring Deborah Moldow, Monica Willard, Dot Maver, and Ambassador John McDonald
Click here to register for the 11 Days Tele-Summit and Summer of Peace
Register and Call in with your Peace Day Program from Around the World!
And check out the other 11 Days dialogues with Deepak Chopra, Daniel Ellsberg, Amy Goodman, Desmond Tutu, Bill McKibben, Jonathan Granoff, Hazel Henderson, Riane Eisler, Eckhart Tolle, Barbara Marx Hubbard
New York Area Highlights of our 11 Days Allies
http://peoplesclimate.org/march
The March – 11:30 am, Sunday, September 21st
Assembly Location: Central Park West, between 65th and 86th streets.
·         
Enter on 65th, 72nd, 77th, 81st, or 86th street.
March Route:
·         
The march will begin at

11:30 am

.
March down Central Park West and go east on 59th Street
Turn onto 6th Ave. and go south to 42nd Street
Turn right onto 42nd Street and go west to 11th Ave
Turn left on 11th Ave. and go south to 34th Street
End Location: 11th Ave. in the streets between 34th Street and 38th Street
---
Peace Day Party
Message from Paul Sladkus, Good News Planet
Dear Peaceful People,
LATEST NEWS ABOUT PEACE, CHILDREN & THE ENVIRONMENT
3rd Annual Day of Awareness for Bullying/Cyber Bullying & Peace Rally in Plaza de Cesar Chavez, San Jose, California, September 20 at 11am. www.amandanetwork.com
13th Annual Vigil for International Peace and Ecology in Central Park, Band Shell/ 72nd Street Mall,New York, New York, September 21 at 10am. www.vigil4internationalpeace.org
Peoples Climate March 9/21 – Create a walking Human Peace Sign 72nd/CPW, 1230PM walk the route; create a closing Human Peace Sign at the event at 34th & 11th, New York. WE, ALONG WITH THE INDIGENOUS FOLK MUSIC TROUPES, ARE THE CLOSING GROUPS FOR THE MARCH, a HUMAN PEACE SIGN.
Our PEACE initiative continues… Our Peace Day Party nonproit will be the CLOSING ORGANIZATION for the People's Climate March on 9/21. We will create a walking HUMAN PEACE SIGN, meeting at 12:30PM at 67th/Central Park West. United we will walk the route and close the March, with a very big Peace Sign at aprox. 38th/11th.
This will follow our Human Peace Sign Ceremony, as part of the Vigil for International Peace and Ecology in Central Park Band Shell at 72nd street/The Mall. We gather there at 10am.
Dan Sherrell, from the Sierra Club NYC organizers for the People's Climate March states, "Climate change is intimately connected to the dynamics of WAR & PEACE, so I am glad that the Peace Day Party will be joining us to close the march with a Human Peace Sign."
Paul Sladkus, founder of www.peacedayparty.org and www.goodnewsplanet.TV states, "The People's Climate March has great participation from the youth of the world. We are reaching out to the youth with our Peace Day Party for Children & the Environment. Let's all work together to keep our people and our home safe."
Our peace sign participants will hold the flags of the countries of the United Nations, provided by the World Peace Prayer Society. We also will be holding Hugg A Planets representing the rest of the world and the animal and plant kingdoms. We will sing Peace & Environment Songs, including Water Not Weapons inspired by our friend Pete Seeger for the World Water Rescue Foundation.
Please go to www.peacedayparty.org for the latest information
or email us at [email protected] 212-647-1212
---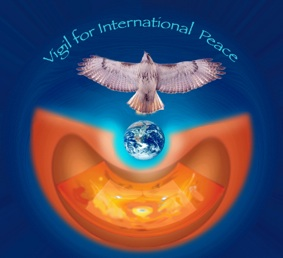 Vigil for International Peace and Ecology
THE VIGILFOR INTERNATIONAL PEACE and ECOLOGY
Sunday, 21 September 2014
NYC Central Park,Bandshell
http://www.vigil4internationalpeace.org
Annually at the Bandshell in Central Park, Manhattan on Saturday September 21st. 9AM to 6PM. Enter park at 72nd Street East Side (Climate Rally on the West Side).
There will be speakers, performers, arts and crafts and many wonderful presentations
including 11 Days of Global Unity 10th Anniversary Celebration
FULL VIGIL SCHEDULE
9:00

15/09/14

1

RECORDED MUSIC-OPENING CEREMONY

REV. SUSANA BASTARRICA ET ALE

10:00

6

DANNY DARROW-

PEACE SONG- M-10-12

15

2

DRUMMING CIRCLE

Native American Indian Ceremonial Prayer

ROLAND-MIRZA-BLISS-NATE-LOU-SHARON-WAYNO-LYNDON

MUSIC-JAMMING GUITARS-

15

3

5

YURI ZAK-

GUILLERMO SILVEIRA

7

4

SUE POLO

7

5

CARMELA

11:00

4

6

CECILIA ST. KING

7

PAUL SLADKUS- PEACE PARTY CIRCLE

12:00

7

8

KAREN HOYOS MC 12-to2

UNIFY MINUTE FOR PEACE

DANNY DARROW

6

9

GEMMA

7

10

RAOUL

8

11

HARRY THE POET-SUKI RAE

10

12

TONY DE MARVELA- Argentina

18

13

CLAUDINE MUKMABANO

1:00

12

14

UPF/Rev.  GRODNER/UPF/AMBASSADORS FOR PEACE

IMAM-PRIESTS-INTERFAITH

PARROTS FOR PEACE/MICHELE PEPPERS/

HUGG-A-PLANET/ WATER NOT WEAPONS/NYC PEACE MUSEUM/PAUL LENDA-DROR ASHUA-JJ HURTAK

6

15

AMBASSADORS-COLOMBIA-ZAMBIA-EL SALVADOR

7

16

SUSATAINABLE GLOBAL NETWORK Ð SARAH and JACKIE

10

17

JAY EMMANUEL

1:30

10

18

THE WAVE BAND # 1  POCODUST COLORS- JOHN LAMPOS

10

19

OPERA ÐRAP- ARIA SOBOUTTI

11

20

THEATRE IN MOTION ÐLESLIE FANNELLI

2:00

35

21

GARY SPOLANSKY MC 2-TO-3

JASONS CHILDREN

2:35

12

22

WORLD PEACE VIOIN

2:47

11

23

INMA HEREDIA

3:00

15

24

UNIFY MINUTE OF SIENCE WORLD WIDE- IMOV-MC

IMOV

TRUTH-ADAM AHUJA-LEFT BANKE

BENNY ZABLE

12

25

TECHNICOLOR LENSES

18

26

SENTHEIA McCLEOD NATONAL LITHURGICAL NETWORK

15

27

LU DRAGON-JONATHAN GRANOFF

4:00

30

30

28

WE, THE WORLD 11 Days of Global Unity 10th Anniversary Celebration Rick Ulfik and Friends

JAMES CANINIGS TRIBUTE TO JAMES CANNINGS, PETE SEEGER-WOODIE GUTHRIE

WITH-ROLAND MOUSSA-STREETSINGERS, ANDREW KAEN–POET

PETER YARROW- SPOOK HANDY AND FRIENDS

SOUL DOGS: LYNDON HARRIS,SHARON BENSON, ROBERT WAYNE

15

29

MANA

5:00

8

30

LOU WAVE BAND #2 ÐREBEL FACTORY

5:15

20

31

JOHN LENNON TRIBUTE-TOM LENNON RAIDER & IMAGINING PEACE- NIKITA

32

PEACE FLAG CEREMONY

4

10

3

33

CECILIA ST. KING

DANNY GARCIA

NAMAYA

34

GRAND FINALE/ Imagine/GIVE PEACE A CHANCE