As global stocks continue to rally to new highs on tax plan optimism, it's worth stepping back and thinking about what the proposal actually means for markets.
As one prominent trader put it this week: "this is just additional QE."
Here's the rationale behind that characterization.
As you're undoubtedly aware, global stocks are making new highs on what's being widely billed as "optimism" around the U.S. tax plan.
On Monday, for instance, the Topix hit its highest level since 1991: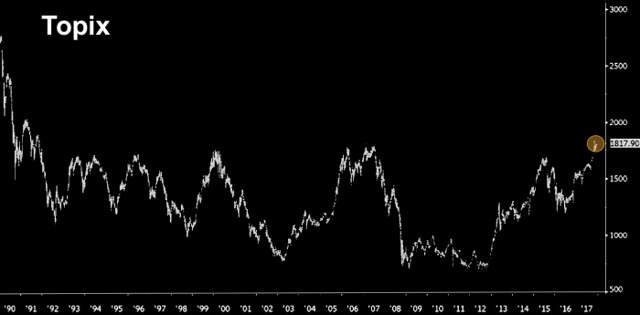 In Europe, equities stormed out of the gate to start the week and the VStoxx plunged to an all-time intraday low as volatility continues to collapse across the globe: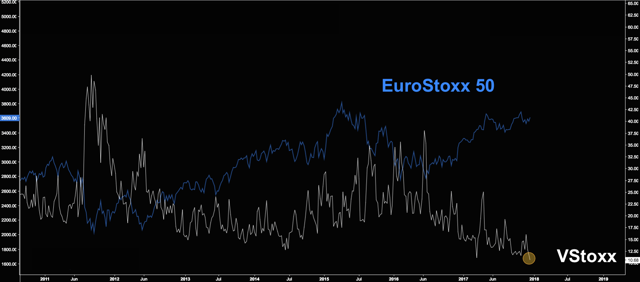 The rally of course extended to Wall Street, where equities (SPY) were green across the board.
I wanted to quickly draw your attention to something that you might not have considered with regard to the GOP tax bill.
QE is, at heart, a trickle-down policy. That's what Bernanke's fabled "wealth effect" means. Recall this from his infamous 2010 op-ed in the Washington Post that purported to explain "why the Fed did what it did":
This approach eased financial conditions in the past and, so far, looks to be effective again. Stock prices rose and long-term interest rates fell when investors began to anticipate the most recent action. Easier financial conditions will promote economic growth. For example, lower mortgage rates will make housing more affordable and allow more homeowners to refinance. Lower corporate bond rates will encourage investment. And higher stock prices will boost consumer wealth and help increase confidence, which can also spur spending. Increased spending will lead to higher incomes and profits that, in a virtuous circle, will further support economic expansion.